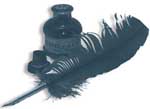 At Quill and Ink Indexing Services, I will add value to your book with the addition of a professionally created back-of-the-book index. Nearly any non-fiction book can be improved through the addition of a properly created index or indexes.
Many readers count on finding an index in the books they read. For some readers, the presence or lack of a proper index in a book may even be a factor in their decision to purchase that book. I know I have frequently put books back on the shelf if they don't have an index. As a student, I found that the presence of an index was integral to my choice to use or not use a particular book as part of my research, frequently being the first pages I would turn to when looking over the books for relevant material.
Let me create your index for you. I can save you valuable time and make sure that the standard elements and formatting requested by your publisher are met. What's more, I enjoy the task!
My indexing process:
Usually I get sent the final page proofs once there's no real page changing still to happen in the editing process.
I will index those page proofs in the format asked for – typically run-in or indented formats, and also letter by letter or word by word alphabetization. Publishers often have a particular style they wish the index to follow, sometimes termed the "house style". If you don't have a house style to guide you, I can help you decide how best to format your index as well.
Then I send the index back as an .rtf file or in a similar format specified by the publisher.
Finally, I make any corrections requested by the author or publisher.
I have indexed titles in the following subject areas: biographies and memoirs, popular culture, history, general finance/real estate, political science, self-help and education. For a more complete list of subjects/titles, take a look at the "Samples of my Work" or the "Samples of my Work by Subject" page.
Contact me at elenagwynne@gmail.com for more information. I'm looking forward to working with you.